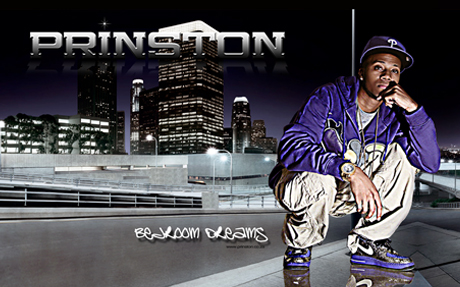 The producer rapper straight out of Durban SouthAfrica, known by his fans as Prinston, is really an artist to be reckoned with lately. Having spent some time in the USA in Florida and experienced some international and local exposure, Prinston has built up enough momentum to take his music career to new heights with a constant grind from producing most of his album, to writing, rapping and singing his own hooks. The success from his single CLOSER has opened many doors for him like performing alongside Cash Money Artist, Jay Sean and the independent release of his album BEDROOM DREAMS album which is available in stores nationwide. Last year he was nominated for Best Mainstream Act of the year forMalaysia's 2011 AFRICAN ENTERTAINMENT AWARDS. Prinston's music is a smooth blend of hip hop mixed with RnB vocals. His 2011 hit single, WHAT THEY LIKE, created a stir in the local hip hop industry which was playlisted on some ofSouth Africa's top local radio stations, not to the mention the music video which was eaten up by TV stations like Channel O and Mtv Base
NowDurban's no1 hustler is on the verge of success with his new female driven hit single FEELIN YOU. With this video being on Sabc1's LIVE, MtvBase and Channel O alongside play listing on some of South Africa's top radio stations, Prinston is surely a winner with this one. Prinston is the brand ambassador for Glaceau Vitamin Water and has struck a brand new deal with the creative lifestyle clothing company LRG.
Growing up in Newlands East inDurban, Prince Zondo better known by his stage name Prinston, was a very shy kid. Prinston always loved music as a kid and started rhyming in 1997. He'd listen to the coca-cola top 40 on Metro fm on Saturdays and tape all his favourite rap songs then because buying music wasn't an option at the time. He matriculated atHillviewHigh Schooland did a three year diploma in Information Technology which he studied atOvalInternationalCollege. He went to college to please his parents but music was his first love and he stuck to it. Producing wasn't his main goal but he only did it because it was difficult to get studio time and even when he did get it he wasn't happy with the end product from other producers. Prinston's music mostly reaches out to females since he grew up with his grandparents and aunts and also feels that most females hardly listen to hip hop because they think that it is violent and talks down on them but Prinston is trying to let them know that rappers do have a softer side and that they are appreciated. Now Prinston is running his own independent label, Glayboy Music Group and grinding like never before to get his brand out there. Catch him at one of his shows and see how he moves a crowd.